The Common Cold and Immune Boosters
The common cold is an infection of the upper respiratory tract (nose and throat) caused by a virus.
Symptoms of a cold usually appear about one to three days after exposure to the virus.
Symptoms can include: runny or stuffy nose, sore throat, cough, sneezing, mild fever, slight body aches and headache.
Most colds are generally not too serious, and the immune system fights the virus to get someone feeling better in about a week or so.
Antibiotics, which treat bacterial infections, are not required for a common cold, as they don't treat the cold-causing virus. Most cold symptoms, such as fever and congestion, can be relieved with OTC cold and flu medications.
Additionally, natural supplements may be taken in conjunction with OTC medicines to assist the immune system and potentially reduce the severity and/or duration of the cold symptoms.
Natural therapies such as Andrographis, Echinacea, Olive Leaf Extract, Vitamin C and Zinc are all common natural therapies used in various combinations to "boost" the function of the immune system. Ideally, 'immune boosters' are best taken at the first sign of a person getting a cold or viral infection.
Immune boosters must NOT be taken by people on immune suppressant medication.
Which Immune Booster do we recommend?
There are many products for assisting immunity available in pharmacy. These are some examples of products that contain ingredients which have been clinically trialled and tested in the specified doses.
BioCeuticals Armaforce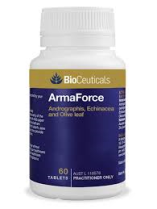 Recommended Acute Dose: Take ONE tablet every HOUR for the first 6-8 hours. Then take TWO tablets once or TWICE a day thereafter. Continue for at least one week after symptoms have subsided, or as recommended by Pharmacist.
Recommended Maintenance Dose: Take ONE or TWO tablets daily or as recommended by Pharmacist to reduce chances of getting a cold/virus (eg: in winter months)
Ingredients: Andrographis, Echinacea, Olive-Leaf, Vitamin C and Zinc
Precautions:
Not to be used in pregnancy/breastfeeding
Take immediately after food if stomach upset occurs
Ethical Nutrients Immune Defence
Ingredients: Andrographis, Echinacea, Siberian Ginseng, Zinc, Turmeric and Vitamin A
This preparation has higher doses of Andrographis and Echinacea, compared to Bioceuticals Armaforce. However, it also has higher doses of Vitamin A and Zinc which may cause nausea in some people (take with/after food).
Precautions: Not to be used in Pregnancy/Breastfeeding
Acute Dose: ONE tablet TWICE a day
Maintenance Dose: ONE tablet daily
Swisse Ultiboost Immune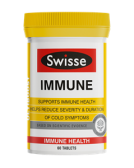 Ingredients: Olive Leaf, Zinc, Vitamin C, Bioflavinoid, Magnesium and Copper.
This preparation may suit people who can't take Echinacea, however it does contain a much higher dose of Zinc, and may cause nausea (take with/after food).
Acute Dose: Take ONE tablet TWICE a day
Maintenance Dose: Take ONE tablet daily
Precautions: Not to be used in Pregnancy/Breastfeeding