Did you know Bowel cancer (also known as colorectal cancer) is the third most common type of newly diagnosed cancer in Australiaª
The major bowel cancer risk factors, for both men and women include:
 Age – risk rises sharply and progressively from the age of 50 ª
 A family history of bowel cancer ª
 A personal history of cancer of the colon, rectum, ovary, endometrium, or breast ª
 A history of polyps in the colon ª
 A history of ulcerative colitis (ulcers in the lining of the large intestine) or Crohn's disease ª
 Hereditary conditions, such as Familial Adenomatous Polyposis (FAP) and Hereditary Non-Polyposis Colon Cancer (HNPCC; Lynch Syndrome) ª
Bowel Screening Kits are now available at Nova Pharmacy.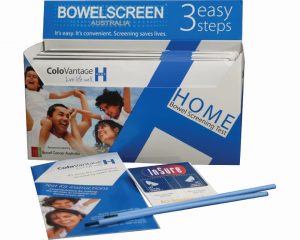 For more information, please visit Bowel Cancer Australia.
Please consult your healthcare professional if you believe you are at risk of Bowel Cancer.
ªResource – Bowel Cancer Australia 2016