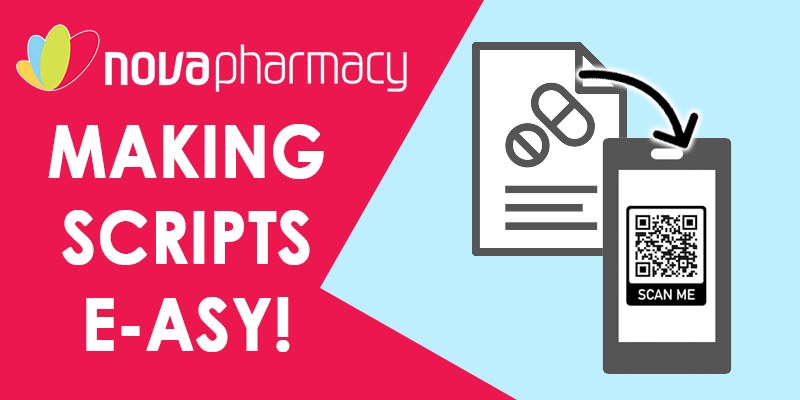 Nova Pharmacy is now accepting
Electronic Prescriptions – eScripts
E-Scripts are now available at your local Nova Pharmacy!
E-Scripts, also known as electronic prescriptions, are an alternative to paper prescriptions, and will make it easier for people to access the medication they need, when they need it.
Patients will now be able to participate in a telehealth consult with a GP, and have their e-Script sent directly to their phone via SMS or e-mail.
This will allow greater convenience  when accessing prescriptions for all patients.
You still have the option to receive a paper prescription, however an electronic prescription allows you to have total control of your health  in the palm of your hand,
improving access and reducing the risk of errors.
This service is currently available at all Melbourne postcodes.
Contact your local GP to find out if they offer this service.
---
How do Electronic Prescriptions (e-Scripts) work?
1. During your consultation with your doctor, you can now choose to receive an e-Script
on your phone rather than a traditional paper prescription.
2. If you choose an e-Script, your doctor will send you a link (via SMS or Email)
to a unique QR Token that can then be scanned at the pharmacy.
3. Visit your local Nova pharmacy and one of our friendly Pharmacists will scan your QR Token
from your phone and dispense your medication.
4. If you have repeat prescriptions,
you'll be sent a new QR Token after each script is dispensed until your repeats are complete.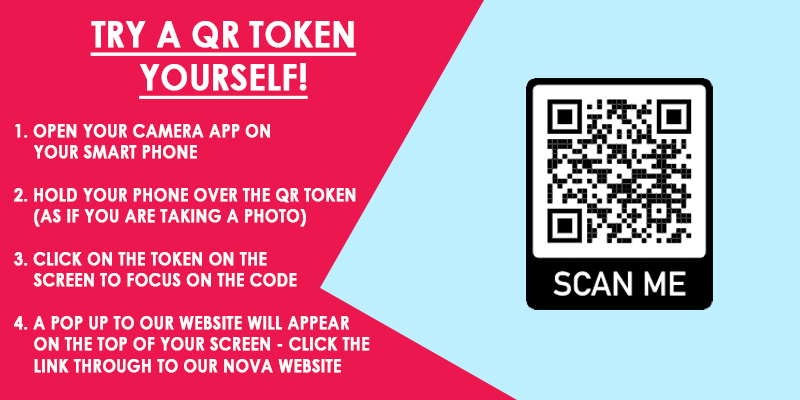 ---
Frequently Asked Questions
Why use e-Scripts instead of traditional paper prescriptions?
There are a number of reasons to switch to an e-Scripts service:
E-Scripts are easy to access.  As the prescription is stored on your smart phone, and received via email or SMS, you have access to your prescriptions anywhere and at any time.
You will never lose a script again. You will never have to rummage through your handbag or car to find your prescription.
As e-Scripts are a paperless service, they are an environmentally friendly option.
Are e-scripts secure and safe?
Yes. The e-Script system complies with the highest level of security, so they are very safe.
Your prescription information is transmitted through a secured system called the Prescription Exchange Service (PES) and can only be accessed by authorisation.
Your unique script token is also protected through layers of encryption and cannot be accessed by anyone until it is unlocked by your Pharmacist.
Do I need any special technology to use e-scripts?
To receive an e-Script, you will need either an email address, a phone number to receive an SMS or a prescription management App like our myPharmacyLink App.
A smart phone will also be required to take your e-Script to your pharmacist.
If you require some help using the new format, you can ask your prescriber/Doctor to forward your e-script to a family members phone number or email.
Remember, e-Scripts and paper scripts will co-exist for some time, so you can continue to receive your prescriptions in paper form – just let your Doctor know.
How does an e-Script token work?
If you choose to receive an e-Script in a token form, your prescriber / Doctor will send this to you via SMS or email. This exchange is highly encrypted, so you know all your information is safe!
Once in possession of your token(s), you will present this token to our Pharmacists who are authorised to unlock your token to retrieve your prescription.
They will then use this information to dispense your medication.
Will the token show any personal or sensitive information?
The token is used as a key that only your Pharmacist will be able to unlock from the PES, the virtual prescription database.
Once your pharmacist unlocks your prescription, it will only display the very basic prescription information needed to dispense your medication. This  includes the date, medication and strength, your initials and the number of repeats (if any). Please note that no personal information will be displayed.
How will my repeats be issued?
If your prescriber / Doctor has issued you an e-script with repeats, our dispense software will automatically SMS or email you a new Token for your repeats at no extra cost!
To have your repeat script dispensed, you will need to present the new token to our Nova Pharmacy Staff.
Can I switch between an e-script with a paper script?
No, unfortunately you cannot switch between scripts.
If you have chosen to receive an e-Script, any subsequent repeats will remain electronic.
You will not be able to switch between the two different types of prescription.
What if I have multiple tokens, how can I differentiate between my original and repeat tokens?
Your e-Script token is used as a key for our Pharmacists to scan to unlock your prescription from the PES.
This means that if you accidentally present and scan an old token, or your prescription is expired,  you will receive an alert via your phone to let you know that it is not correct.
How can the myPharmacyLink App help me manage my e-Scripts?
Our myPharmacyLink App was designed to seamlessly detect and upload your e-script(s) into your medication lists.
This way you don't have to worry about losing your SMS or email token ever again! The e-script will sit safely within the App until you are ready to have it dispensed.