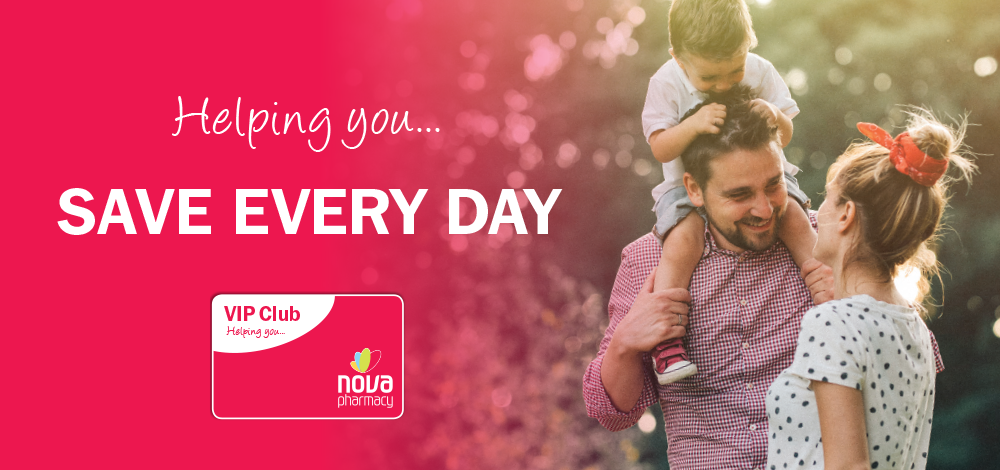 Every time you shop with us, we offer you the opportunity to earn reward points on your purchase*. It's easy, simply present your Nova VIP Club card with your purchase and we will record your points*. For every dollar you spend, you receive one point*.
Join our Free VIP Club & enjoy:
+ $15 VOUCHER
Receive a $15 voucher at the register everytime you accumulate 250 points.
+ WELCOME VOUCHER
Receive a $5 voucher just for signing up.
+ BIRTHDAY VOUCHER
Receive a $5 voucher for your Birthday every year.
+ EARN BONUS POINTS
Receive bonus points for purchases on Nova Brand Generic products. Look in-store for bonus points marked on products and earn additional points.
+ FREE ENEWSLETTER
We will send you a regular newsletter via email with the latest information from Nova Pharmacy as well as invites to our exciting in-store events.
+ EXCLUSIVE EMAIL OFFERS
Receive exclusive email only offers from Nova Pharmacy. Simply fill in your email address on the application form.
+ EXCLUSIVE EVENTS
Receive invitations to experience exclusive events.
+ FREE MEMBERSHIP
Joining is FREE and EASY! Simply fill out the application form below and your card will be available to pick up in-store on your next visit.

Connect with us online
*See Terms & Conditions.