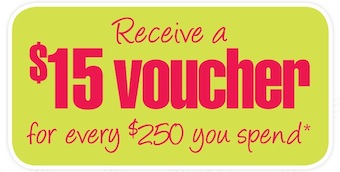 FREE Membership
Joining is FREE and EASY! Simply fill out the application form and your card will be available to pick up in-store on your next visit.
Reward points will help you to save even more!*
Every time you shop with us, we offer you the opportunity to earn reward points on your purchase*. It's easy – simply present your Nova VIP Club Card with your purchase and we will record your points*. For every dollar you spend, you receive one point*.
*  See terms and conditions
Earn bonus points!
Receive bonus points for purchases on selected Health &Beauty products. Look in-store for bonus points marked on productsand earn additional points.
Exclusive email offers
Receive exclusive email only offers from Nova Pharmacy. Simply fill in your email address and tick the "Yes, I wish to receive special offers & promotional information via email" box within the Application Form.
Invitations to exclusive events and promotions
Receive invitations to experience exclusive events and promotions, such as make-up demonstrations, beauty treatments, information workshops, health seminars and more.